Workshops - Steve Rogers AWS, NWS
ARTIST STATEMENT
My purpose, as an artist is to portray the beauty of light and color in God's world as I experience it within my heart. These images are a series of watercolors I have painted since my first trip to the Mediterranean in 1992. On this and subsequent trips I have been able to paint this beautiful land not as one who sees it every day, but as a "visitor", who is awestruck by something fresh and new and at the same time very ancient.
Steve Rogers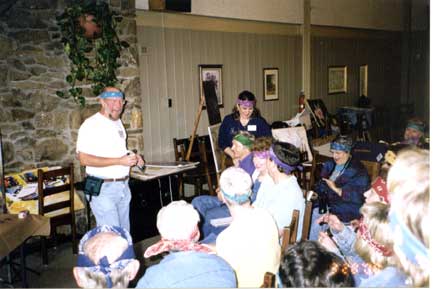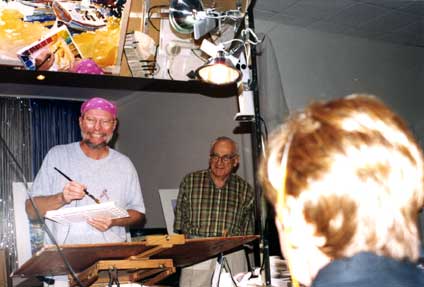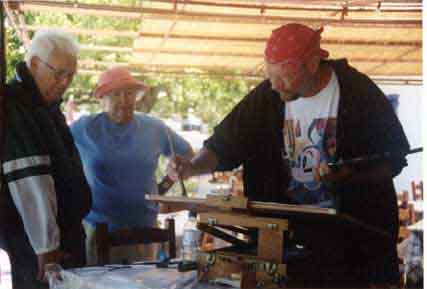 Steve has been teaching workshops throughout North America and In the Mediterranean for over 30 years. For a list of upcoming workshops for 2010 and 2011, materials list, and a description of our France Workshop please click on these links or the link bar to the left.
See list below for a list of workshops Steve has conducted in the past.
My workshop will encourage students at all levels to advance their own vision and to improve the skills necessary to communicate that in watercolor. I paint and teach in a very straightforward traditional manner because I believe I can most honestly say what I want to with my brush and "juicy" watercolor paint. Workshop participants take away from my class knowledge about light and color and the way watercolor behaves through "mini-demos" of paint application, "dealing with dark values in watercolor", "painting reflections" etc. and how these operate in my full painting demonstrations. I really enjoy teaching workshops and I think that translates into a comfortable learning environment for the class. Lots of student painting time along with personal help is available every day.
INSTRUCTOR FOR FOLLOWING WATERCOLOR WORKSHOPS
WORKSHOPS IN THE US AND CANADA
*Springmaid Beach Workshop, Myrtle Beach, SC
*Kanuga Watercolor Workshops– Hendersonville, NC
*Cheap Joe's Art Stuff – Boone, NC Watercolor Society of North Carolina, NC
Wyoming Watercolor Society, Sheridan, WY
Walt Disney - Background Artists, Kissimmee, FL
The Armory, - Master Artists Workshops – West Palm Beach, FL
*Art Center Sarasota (formerly Hilton Leech Studios) - Sarasota , FL
Miami Watercolor Society, Miami, FL Gold Coast Watercolor Society, Ft. Lauderdale, FL
Jacksonville Watercolor Society, Jacksonville, FL
Artists' Workshop, New Smyrna Beach, FL
*Art Tours, Inc. - Greece (Mary Tsamoutales - Indialantic, FL)
*Citrus County Watercolor - Inverness, FL
*Ocala Art Group - Appleton Museum - Ocala, FL Leesburg Art Association - Leesburg, FL
Flo Harrison Workshops - Jacksonville, FL
Rivermont, Waynesville, North Carolina
Highlands Museum of Art – Sebring, Florida
*Art League, Daytona Beach, FL
Longboat Key Center for the Arts – Longboat Key, FL
McDowell Watercolor Workshop – near Jasper, AL
*Brevard Watercolor Society - Melbourne, FL
*Flagler Co. Art League – Palm Coast, FL
The Cape Artists – Lewes, DE
Potomac Watercolorists Workshop, Alexandria, VA
Central Florida Watercolor Society Workshop, Orlando, FL
Art League of Marco Island Workshop, Marco Island, FL
*Art Center Traverse City, Traverse City, MI
Virginia Highlands Watercolor Workshop, Abingdon, VA
*Art on the Water Workshop, Seattle, WA
Workshop with the Masters - Racine Museum of Art, Racine, WI
Art Associates Workshop, Stuart, FL
*Coastal Maine Workshops, Rockland, ME
Artist Showplace Workshop, Dallas, TX
Florida Keys Watercolor Society, Islamorada, FL
Paint Yosemite Workshop, Yosemite National Park, CA
Society of Watercolor Artists, Houston, TX
Howard Pyle Studio Group, Wilmington, DE
Mid-Southern Watercolor Society, Little Rock, AR
******* NW Arkansas ********
Maine Coastal Workshops - Rockland, Maine
Acadia Watercolor Workshops, Mt. Desert Isle, Maine
Landgrove, Vermont
Southwestern Watercolor Society, Dallas, Texas
California Watercolor Association, Walnut Creek, CA.
Waco, Texas
Texas Watercolor Society, San Antonio
Houston, Texas
Sebring, FL
White Rock Art Workshops, White Rock, BC, Canada
Central Virginia Watercolor Guild, Charlottesville, VA
Brevard Watercolor Society, Melbourne, FL
Workshops in Europe
Art Tours- Amorgos-Paros
Greece Art Tours- Chios, Ikaria, Greece
*Art Tours -Scopelos
Greece Webster's World- Cortona, Italy Webster's World
Stressa, Italy Webster's World- Lake Como
Italy Webster's World- St. Remy, France
Webster's World- Ronda, Spain
Domaine du Haut Baran - Southern France
Il Chiostro - Florence and Chianti / Tuscany, Itlay