Information / biography- Steve Rogers AWS, NWS
ARTIST STATEMENT
My purpose, as an artist is to portray the beauty of light and color in God's world as I experience it within my heart. These images are a series of watercolors I have painted since my first trip to the Mediterranean in 1992. On this and subsequent trips I have been able to paint this beautiful land not as one who sees it every day, but as a "visitor", who is awestruck by something fresh and new and at the same time very ancient. Steve Rogers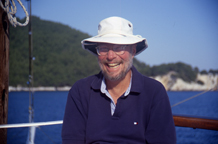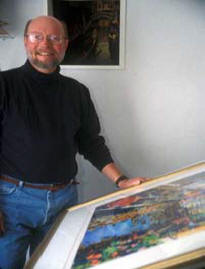 Steve Rogers is the National Watercolor Society Purchase Award Winner "Best of Show" at the 2006 NWS Annual Juried Exhibition. Steve's paintings have won hundreds of awards in juried competitions including four awards in the American Watercolor Society Annual Internatoinal Exhibitions.
Steve is a Signature Member of:
the American Watercolor Society and an Ambassador/Director of AWS and a Signature Member of the National Watercolor Society. He was the National Invited Juror for the AWS Annual Exhibition in 2007and served on the jury of selection. Steve was the Chairman of the American Watercolor Society Jury of Awards in 2010. Steve's work was featured on the cover of the winter 2007 issue of"American Artist's Watercolor Magazine", and in the beautiful article by M. Stephen Doherty, Inspiration at Higher Levels. His painting Aegean Blue was included in the 1st Invitational Exhibition of Contemporary International Watermedia Masters at the Jiangsu Watercolor Research Institute in Nanjing, China. He is also a signature member of the Florida Watercolor Society, where he has won 15 awards including three for Second Place.
biography
Steve Rogers was born August 18, 1947 in New York City. He attended Rollins College in Winter Park, Florida, and graduated with a Bachelor of Arts degree from Monmouth College in Monmouth, Illinois in 1969. His father, Henry Rogers, was a commercial artist who would often paint at home when Steve was a child. He studied in New York with artist Harold Stevenson,who would go on to found the prestigious Stevenson Academy of Fine Art, and later with legendary watercolor painter and instructor Robert E. Wood. Steve has made a career of painting since 1975. He lives at 26 Sunset Boulevard, Ormond Beach, Florida 32176 Ph.(904)441-4930, with his wife Janet, both of whom are Signature Members of the American Watercolor Society.
Steve traveled to Greece for the first time in 1992 to teach a watercolor workshop and has returned to Greece and Italy, Spain and France many times since. These experiences have had a profound impact on the color, the sense of light and place, and overall direction of his painting. "God is light" I John 1:5. I paint the light, which is a reflection of God's beauty, and it makes my work as an artist both joyful and rewarding.
permanent public collections
Rogers' work is represented in many public collections, including the Florida Senate Collection,National Watercolor Society Permanent Collection, The Orlando Civic Center, the Ocean Center Convention Center, Daytona Beach, the Orlando International Airport, the Museum of Arts and Sciences, Daytona Beach, and the United States Fifth District Courthouse.
Corporate Collections
Corporate collections include Walt Disney World, Orlando, FL.(18 paintings); Euro-Disney, Paris, France (16 paintings); AT&T Card national headquarters, Jacksonville, FL; AT&T Orlando, FL; Arthur Anderson Corporation, Chicago,Ill.; Bank of America, Orlando, FL Sun Trust corporate headquarters, Orlando, FL; Barnett Banks corporate headquarters, Orlando, FL; Enron Corporation, Houston, TX; Flagship Banks corporate headquarters, Miami, FL; Florida Gas - Continental Resources, corporate headquarters, Winter Park, FL; American Laser Corporation, Chicago, IL; Miami Herald, Miami, FL; U.S.Trust, Palm Beach, FL; Outlet Broadcasting Corporation, Orlando, FL; and Centrosin Management inc., Glifada, Greece (a large Greek shipping corporation which has five of my Greek paintings), and SAP corporation in NC.
one man and group shows
One man shows include Albertson-Petersen Gallery, Winter Park, FL; Brevard County Art Center and Museum, Melbourne, FL; Albertson-Petersen Gallery Olympia Place, Orlando, FL; G. Sanders Fine Art Gallery, Daytona Beach, FL; Art League of Daytona Beach; Ormond Beach Art Gallery and Museum. Group exhibitions include: American Watercolor Society Annual Exhibition and Traveling Show 2010, 2007, 2006, 2005, 2000, 1999, 1998, 1997,1985. National Watercolor Society Annual Exhibition and Traveling Show, 2006, 1998, 1997 Museum of Arts and Sciences, Daytona Beach, FL, 1989. Casements Art Gallery, Ormond Beach, FL, 1989. Museum Choice - Orlando Museum of Art at Loch Haven, 1987.. Florida Watercolor Society Annual Exhibitions, 1987-81, 1984-2006.
select awards
Select awards include: National Watercolor Society – "Best of Show" National Watercolor Society Purchase Award Northwest Watercolor Society Award 2006, 1998 American Watercolor Society –Ogden and Mary Pleissner Memorial Award, 2005,Magery Soroka Memorial Award, 1999. Hotel Des Artistes Tribute to Mario Cooper Award, 1998. Margery Soroka Memorial Award, 1997.
books, articles, and DVDs
Recent Articles and Books and DVDs include: Steve's first DVD, 7 Secrets of Painting Reflections in Watercolor, and his newest DVD, Secrets of Painting Light and Shadow in Watercolor, the lovely article in American Artist's Watercolor, "Inspiration at Higher Levels". Winter, 2007. Watercolor Magic, "2006 Winners", February, 2007. Watercolor Magic, "Every Stroke Counts". Winter, 1998. Article in Halifax Magazine, March, 1999. Featured in A Gallery of Marine Artists, published 1999. A chapter on painting abroad in, The One Hour Watercolorist, a Northlight Book published in 2000. A chapter on Reflections in Expressing the Visual Language of the Landscape an International Artist book published in 2001, and coming soon, a chapter in The Secrets of Award Winning American Artists a book written in Chiness for Chiness watercolor artists.