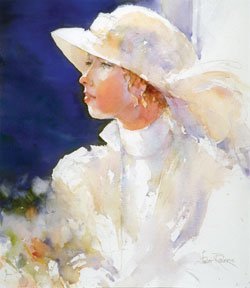 Lady in White—Profile
by Janet Rogers, 2004, watercolor, 27 x 22.
Collection Gregory Valentine.

It's often said in sports circles that the best players often make the worst coaches. That's because it is hard for naturally gifted athletes to relate to players who are not so innately talented. A perfect example of this is former Boston Red Sox outfielder Ted Williams. He is regarded as one of the finest hitters in baseball history, but his short-lived managerial career is considered by most to be largely unsuccessful, due in large part to his admitted impatience with players whose abilities didn't match his own.
The same issues can arise when exceptionally talented painters find it hard to empathize with struggling art students. Fortunately, Florida artist Janet Rogers is both a top professional artist and an inspiring, compassionate teacher—just ask anyone who has participated in one of her lively, informative workshops. That's why I am delighted to tell you about a detailed article about Janet's working methods that you can access for free.
In our most recent free eBook, "23 Free Watercolor Lessons for Portrait Painting," we highlight some of Janet's most vital tips on watercolor painting technique. Though she often makes the process of painting figures in watercolor seem almost effortless, she still has the ability to convey the important lessons needed to help almost anyone improve his or her watercolor-painting skills. In this free download, you can learn about her recommended warm-up exercises and what steps artists can take during the painting process to help them create a more successful watercolor painting. The 23 tips presented range from practical points such as the use of quick watercolor sketches and palette organization to more general observations such as the importance of keeping things simple and making a personal connection to the image you're painting.
Download the free eBook now, and get the expert advice you need to start making more successful watercolor portrait paintings today.
Brian Riley
Managing Editor