Portrait Commissions - Janet Rogers AWS
Welcome to my Portrait Commission Page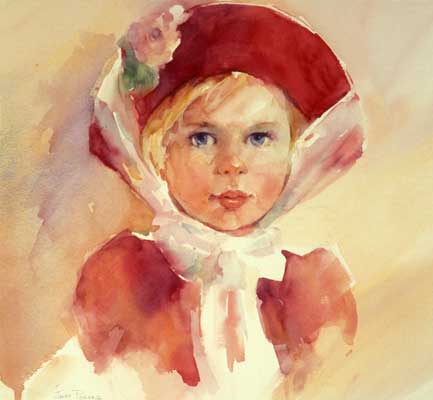 I started painting portraits in oils, acrylics, pastels and conte' crayons about 25 years ago, until I saw watercolor portraits by the master, Charles Reid. I have been in love with watercolor ever since! He paints so much life in his portraits, and his paintings have continued to inspire me, together with the older masters such as Sargent, Rembrandt, Henri, to name a few! When I paint a portrait, I try to bring out the nature of the subject.I started painting portraits in oils, acrylics, pastels and conte' crayons about 25 years ago, until I saw
I especially love painting portraits of children - their innocent and trusting spirit is inspirational, and I am grateful to God for allowing me the privilege of painting them. Of course I also enjoy painting adults - each individual has such a special nature to capture, and my goal is to try to bring forth the beauty in each person.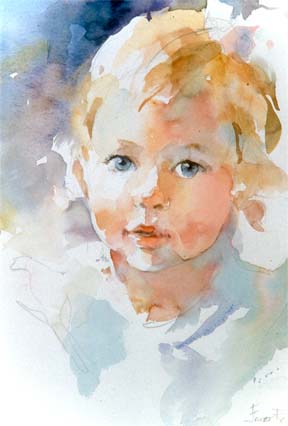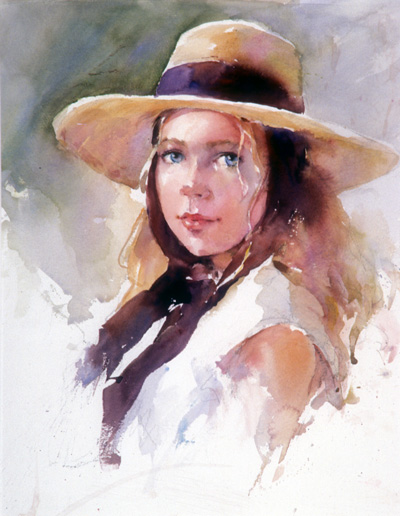 Head study -12x16 - $500 up head and shoulders - 20x24 - $750 up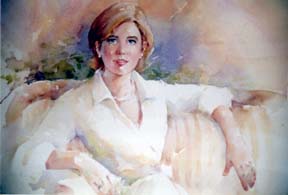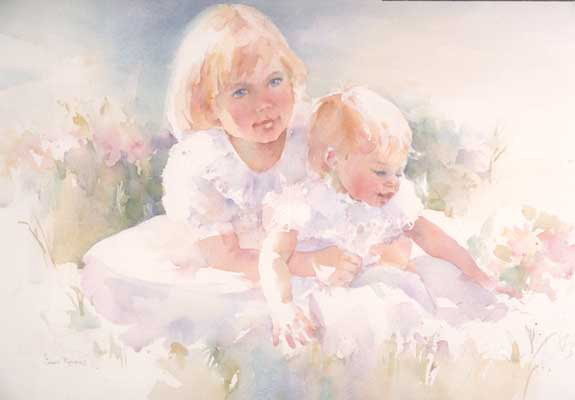 Above are sample images of portrait commissions, listing approximate sizes and prices. Clients may contact me via e-mail or phone (386) 441-4930 to discuss procedure. Portraits may be done from life or photo. Most of my work is done from photos (either mine or client's) for the sake of convenience. My goal is to make each portrait as full of life as possible. Although one photograph of the subject will be the image of the painting (expression), I like to have back up photos showing additional information (such as hair and eye color, etc). I can change the style of clothing, backgrounds, etc., although if much additional work is required, there may be an increase in cost. Prices reflect the cost of one person in the painting. For each additional person, there will be an extra charge - figure on approximately double for two, triple for three, etc. Prices may be adjusted according to difficulty - (or ease) - of commission. It is much more difficult to compose a painting with more than one person in the painting (not like a photo), not to mention that I have to paint it! I try to work with each client according to their needs, desires, and affordability. I find each portrait takes on a different dimension, and I enjoy the dynamics of a joint effort with clients in creating a unique and special portrait. I like to talk in person to clients to get a better feeling of the creation.